Pour son 4e et dernier jour au Zanskar, le Dalaï-Lama a rendu une visite surprise à la LMHS. On peut trouver un compte rendu complet de cette visite sur le site officiel du Dalaï-Lama (en anglais) dont voici un extrait :
At the Lamdon Model School in another corner of Padum, Geshe Damchö, the school Chairman, gave a short introduction. He mentioned that the school was founded in 1988 and that since then 870 students had graduated. Of these, eight had gone on to MB.BS medical training, seven pursued PhDs in different subjects and many more had entered IITs (Indian Institutes of Technology). He requested His Holiness to speak to the students and staff.
« The people of the Himalayan Region generally follow the same culture as we Tibetans, » His Holiness began. « But you are free to preserve your culture and religion. We Tibetans have lost our country and face all sorts of difficulties, but things will change. Some months ago a Tibetan Muslim from Srinagar came to see me. Speaking perfect Lhasa dialect he asked, 'Rinpoche, when will we be going back to Lhasa?' He, like us, has not forgotten our homeland.
« As I was saying, the Himalayan peoples follow the Buddhist traditions of Tibet, the Nalanda Tradition. I've heard suggestions that the Kangyur and Tengyur be translated into the Sikkimese and Ladakhi dialects, but it would be much easier for people to learn or improve their understanding of Tibetan. If you neglect your understanding of the language, it will be difficult for you to understand and explain what the scriptures say. As the saying goes, 'If you have a jewel in your hand but fail to recognise its value, there's no point in complaining once you lose it.' Recently, the Tawang Foundation has announced plans to expand temples and monasteries across the Himalayas as centres of learning, which is an excellent development.
« Over the last 50 or 60 years, both Ladakh and Zanskar have seen significant material progress, including the founding of schools like this. I appreciate all the effort teachers and staff have been putting in to educating children. I'm also happy to note that there is no religious discrimination when it comes to education and that the school also enrols Muslim students. »
His Holiness asked if the students knew the 'Praise to Manjushri' and hearing that they did suggested they recite it with him. He asked them to visualize Manjushri on the crown of his head and to imagine rays of light flowing from him to increase their wisdom and intelligence. He then led them in reciting Manjushri's mantra Om arapatsanadhi.
There followed a moving recitation of the 'Prayer of the Words of Truth', with even the smallest children singing the words fervently to the stirring tune. Towards the end the prayer expresses a wish: 'May all the vast prayers of aspiration the lord Avalokiteshvara made for Tibet in the presence of the Buddhas and their bodhisattva heirs, swiftly come to positive fruition here and now.' His Holiness remarked that there are many Chinese able to distinguish right from wrong who could find a way to settle the problem of Tibet. However, out of ignorance there are those who think it must be solved by force. This is an aspect of totalitarian thinking that has to change.
« Tibetan religion and culture have the potential to be of benefit to the Chinese people. In terms of material development, China can help Tibet. This is the basis for our not seeking separation, but a solution for mutual benefit.
« In this connection I really admire the European Union, which was set up after the Second World War. As a result, peace has prevailed for 70 years between former enemies. After the war, President de Gaulle and Chancellor Adenauer used common sense. They understood that pursuit of a common interest was better than a narrow focus on national sovereignty. The EU they brought about is a wonderful achievement.
« In the 7th, 8th and 9th centuries, Chinese history books record, China, Mongolia and Tibet were three sovereign nations. Chinese records from the T'ang to the Manchu dynasty make no mention whatsoever of Tibet's being a part of China. Since 1974, we've chosen not to seek separation from China. However, the rights we are accorded by the Chinese constitution must be fulfilled. Right now, China is changing and our door is open.
« Chinese hardliners continue to refer to the Dalai Lama as a 'splittist', but the whole world knows this is not true. Perhaps they don't know how to change their tune, or somehow it's useful to them to continue to say this. Nevertheless, their criticism seems to be declining. Whether it's next year or the year after that, I believe change will come. »
Source : https://www.dalailama.com/news/2018/visiting-schools-and-the-men-tsee-khang
Quelques images de la visite de Sa Sainteté le XIVe Dalaï-Lama à la Lamdon Model High School (LMHS) – photographies de Tenzin Choejor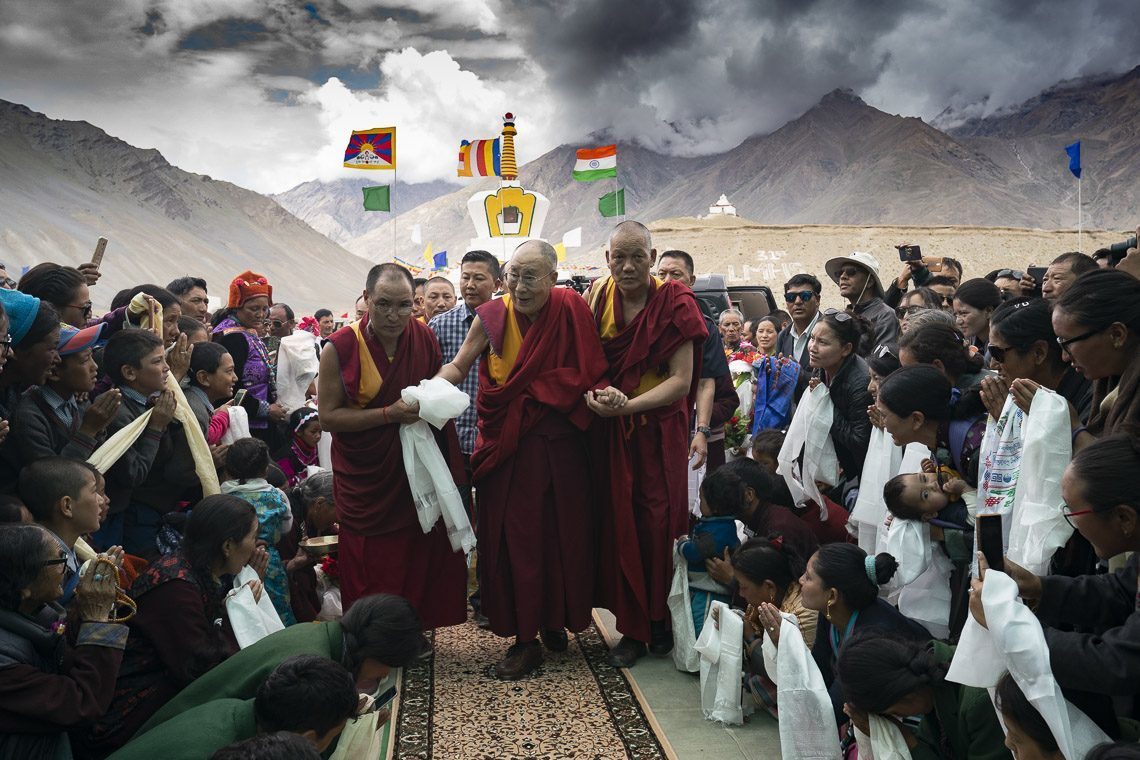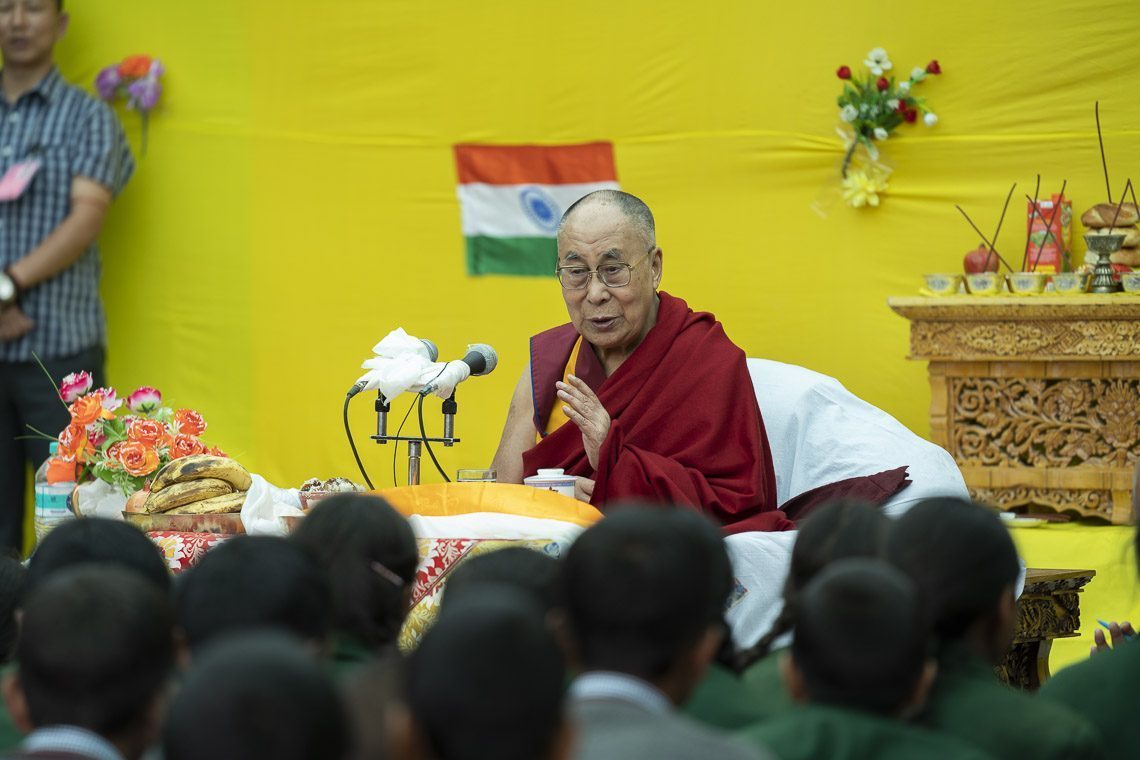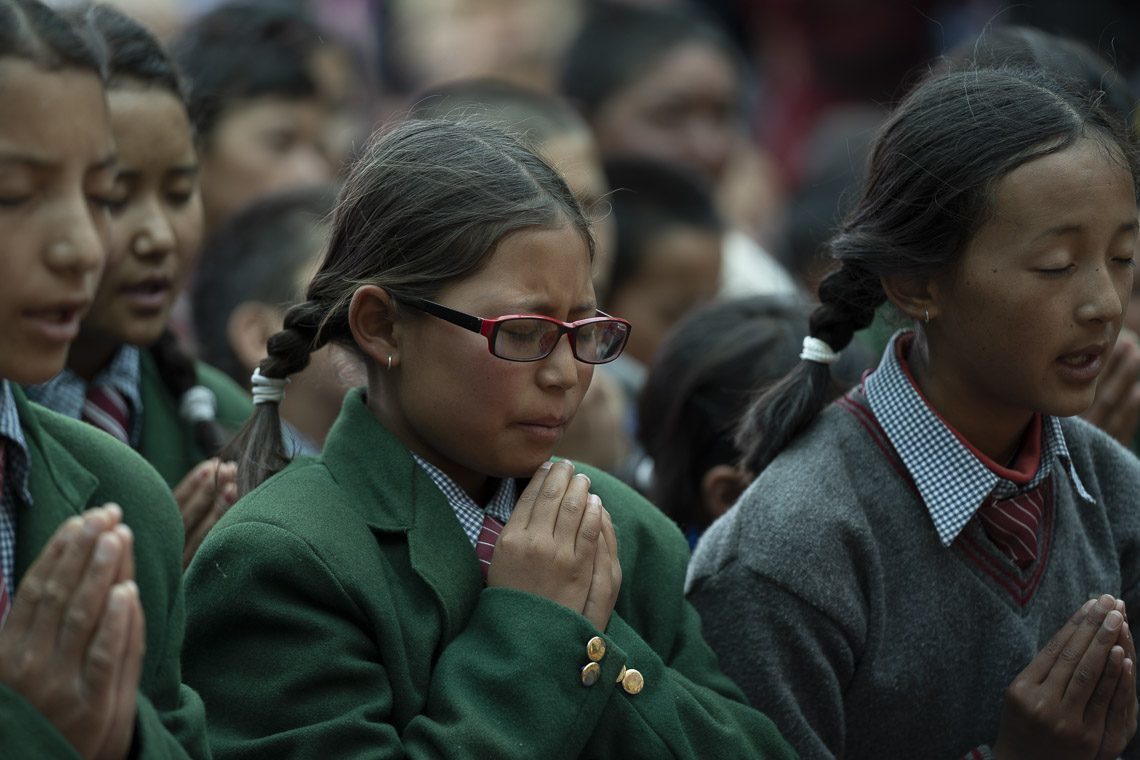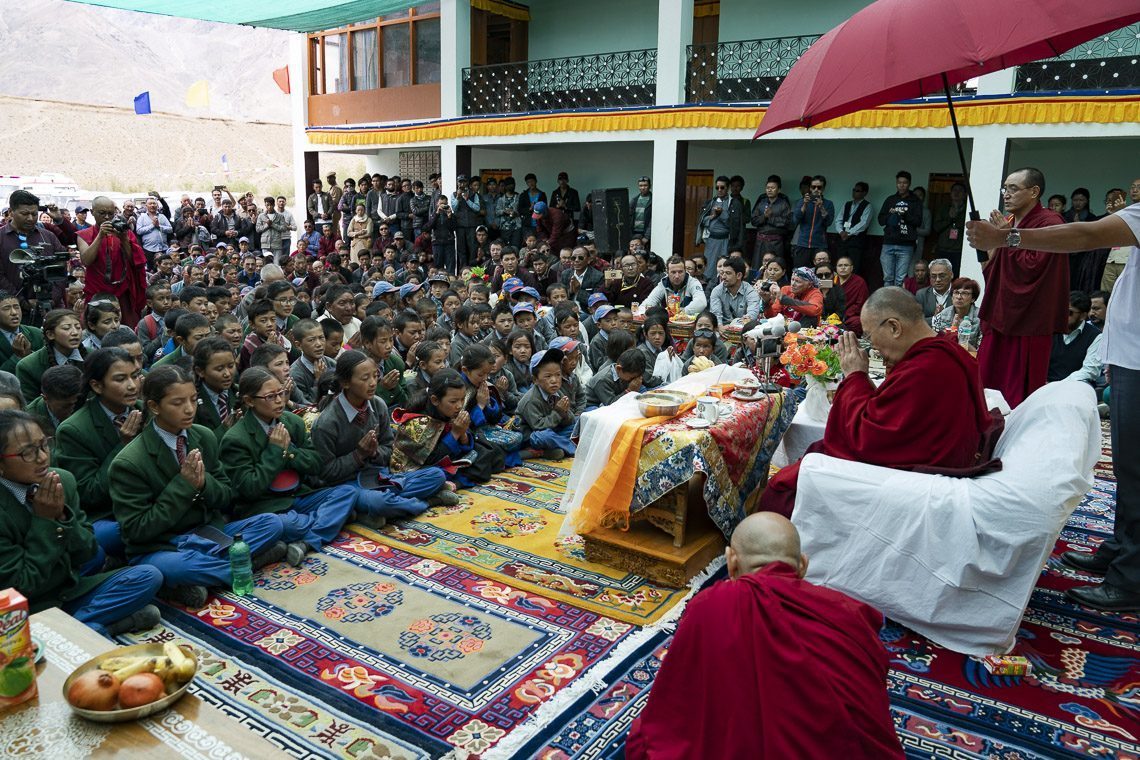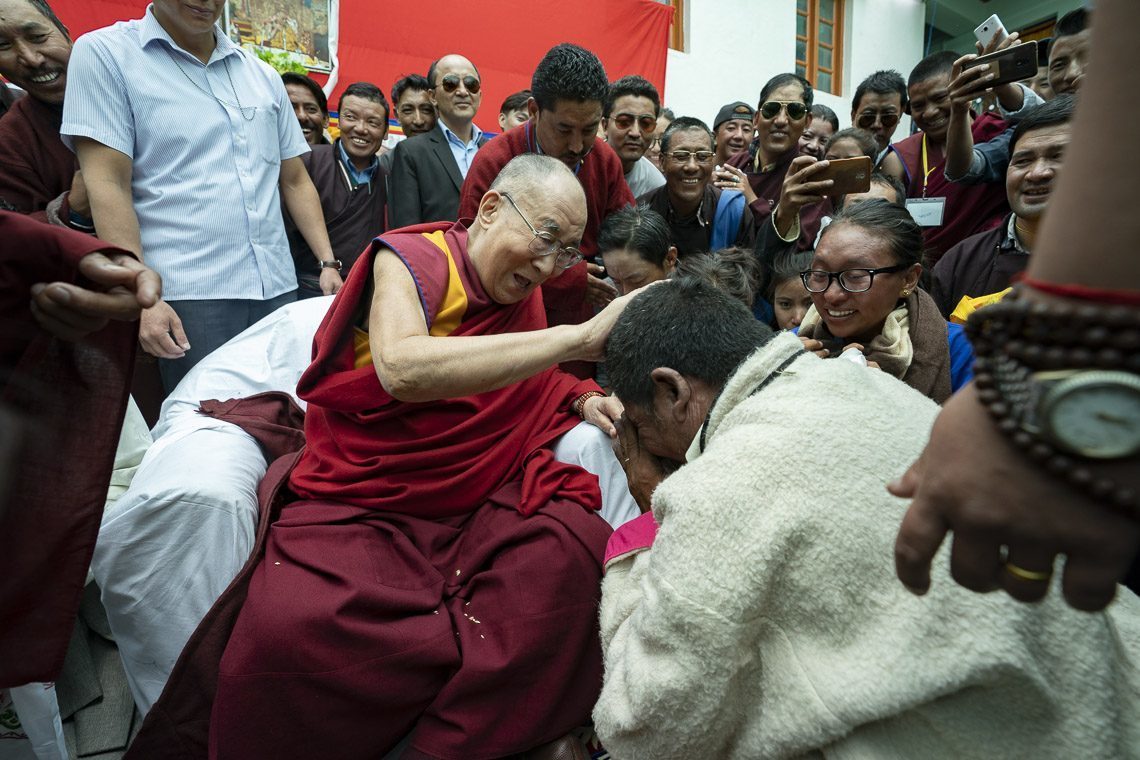 Source : https://fr.dalailama.com/pictures/dernier-jour-au-zanskar