When winter sets in on the high plateaus of the Ladakh region, the passes (over 5000 m) that provide access to the Zanskar Valley fill with snow and the roads become obstructed until the spring. During this period, the only communication route between Zanskar and the rest of the world is the one that follows the bed of the eponymous river, when the intense cold encloses the river in a frozen strand on which it becomes possible to walk. Translated with www.DeepL.com/Translator
Traditionally used by the inhabitants of Zanskar to reach Leh, the regional capital, this route was then traveled by some adventurous visitors who discovered this winter hike in the 80s and 90s. Over the years, tour operators have embraced this route, which unfortunately, like many magical places on our planet, is now regularly overrun with groups of foreign tourists in search of thrills. The development of the new road which will soon allow direct access to Leh from Padum and which also passes through these gorges, does nothing to withold the "mass" tourism phenomenon which is increasing year after year.
Apart from the problems linked to waste management, those in charge of the region are also obliged to deal with the safety of its visitors, who are in many cases not sufficiently prepared to face winter weather conditions or the difficulties caused by altitude. This winter saw the first helicopter evacuation in the Zanskar Gorge. Faced with this problem, the government of Jammu & Kashmir did not take long to react by publishing a decree which will make a medical examination (in Leh) compulsory for any person wishing to engage on this trek. The obligation will be effective as of the next season, winter 2018-2019.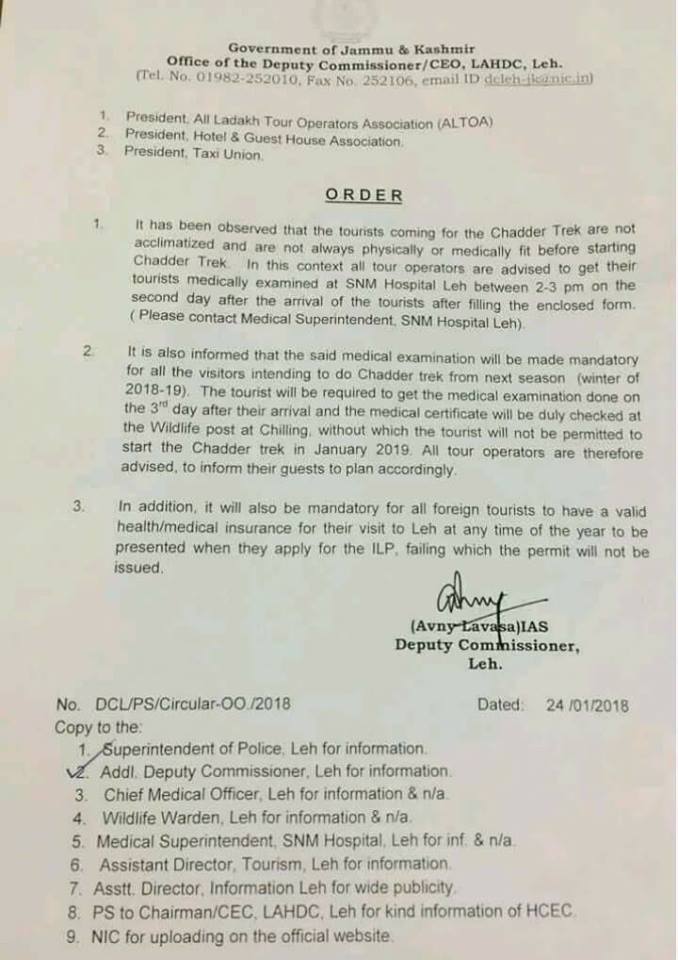 January 2019 Update
An article published in the Business Standard at the beginning of 2019, as the trekking season on Chadar begins, confirms last year's announcements. In summary, here are the decisions concerning the visitors who would like to undertake this winter trek:
Minimum 3 days' stay in Leh in order to acclimatize to the altitude
On the 3rd day, compulsory medical examination (cost 200 INR)
Obtaining a wildlife permit is now also mandatory (2200 INR)
A quota of 100 people maximum per day is imposed by the authorities and it is mandatory to use the services of approved agencies
There are also some changes for the agencies:
Obligation to give the authorities the list of food supplies carried
Obligation to provide garbage bags for the transport of waste
Inspection on arrival of collected waste
Satellite telephone, provided by the authorities, to call for help if necessary
Source : Chaddar trek: Insurance, acclimatisation made compulsory for tourists (Business Standard / 06.01.2019)